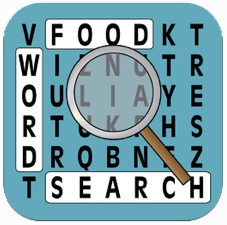 Download for FREE from the App Store
Food Word Search challenges you look for the hidden names of dishes from around the world, ingredients, and different types of food specialties!
Letters appear above the grid as you pick them. Select words forwards, backwards, up, down and diagonally. Words are automatically scratched off the list as you find them. Find all the words, and you win!
– 60 categories, with hand-selected word lists for each topic
– Unlimited replay; Puzzles are randomly created, so they're different each time you play
– The bigger the device, the bigger the puzzles, and the more words you'll have to find
– Helps increase your vocabulary
– Easy to use interface
– Play on iPhone, iPod Touch, and iPad